Medical gases for acute inpatients facility at GOSH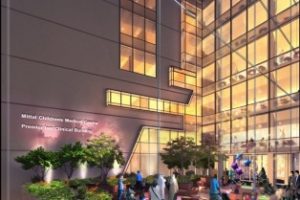 The Premier Inn Clinical Building is the second of two new buildings that comprise the Mittal Children's Medical Centre at Great Ormond Street Hospital (GOSH). The Mittal Children's Medical Centre will deliver the hospital's vision of providing modern facilities for all acute inpatients, where a parent or carer can stay comfortably by their bedside. The seven storey facility will provide spacious bedrooms, two integrated theatres, two anaesthetic rooms, a post anaesthetic care unit, a high dependency area and a 16 bed isolation facility.
Medical Gases will install systems providing the facility with medical oxygen, medical air, surgical air, medical vacuum and anaesthetic gas scavenging systems (AGSS). All beds will be provided with dual circuits for additional resilience.
Project: Great Ormond Street
Client: Skanska
Value: £750,000